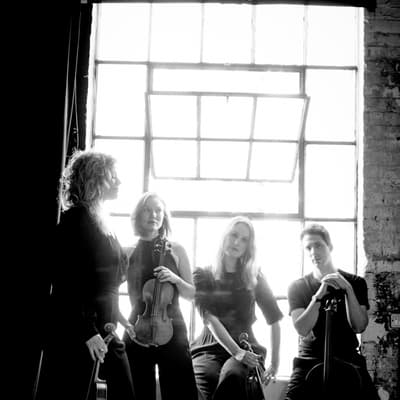 A superb string quartet delights the audience at Haslemere Church
WHEN the superb Albion Quartet performed an HHH concert at St Christopher's Church in Haslemere, a grateful audience enjoyed a wonderful evening of musical creation.
We fell right into the heart of the matter with Dvořák String Quartet No. 13. The music changes all the time, as the first melody returns in the minor key, the serene mood is tinged with sadness. Where the slow movement begins with a beautiful elegiac first violin melody, the instruments come to terms with the sense of loss.
The third has a fast, skipping dance, the skočná, then a more majestic theme. The piece ended with an allegro con fuoco – fast and fiery.
The quartet evokes a fabulous range of sounds from their fine collection of instruments, which includes a Stradivarius and a Guarnerius. They needed that flexibility for the next play, Bartók's Quartet No. 3.
The work begins strangely on the first violin and the feeling of apprehension rises. The second part incorporates rich fragments of Hungarian folk music. It's music stripped of the essentials, tiny patterns continue, redeveloped again and again.
Players achieved almost every rhythmic effect you could have without a drum kit. Bartok stipulates extreme string techniques – bowing near the bridge, playing with the back of the bow – which they employed to bring a dazzling breadth of color to this strange mix, counterpoint, fugue and all.
With obvious taste, Albion crowned their concert by performing Beethoven's song Quartet No. 16 in F major. This, the last complete piece he was to write, showed a marked shift in ideas.
The first movement is a gentle conversation, the second a dizzying dance. The slow movement is soft and singsong, in Beethoven's beloved form, a set of variations.
In the score of Finalhe wrote the enigmatic phrase Should it beplayers seem very sorry for themselves and these three sad notes keep coming back, until suddenly the offhand response This must be and everything brightens up. The finale falls unexpectedly with a resounding goodbye in the middle of a soft pizzicato coda – the defiant Beethoven finishing his life's work with a laugh.