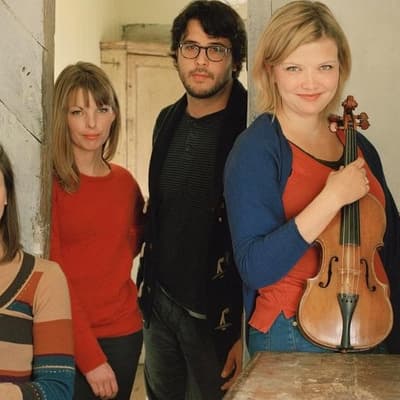 Exceptional concert by a leading string quartet
The largest audience at an HHH concert for two years was rewarded with an outstanding performance by the Chiaroscuro Quartet at St Christopher's Church in Haslemere on Saturday 26th February.
Visually, they are striking. They are standing – except for cellist Claire Thirion, who sits on a single-level podium to make eye contact with the group.
Or levels, since the very lively first violin Alina Ibragimova rubs shoulders with the much larger Pablo Hernán Benedí, second violin.
Ibragimova is always on the move: a fight with her instrument launches transparent pieces of melody that float in the air like soap bubbles. Cellist and violist Emilie Hörnlund looks serene by comparison, as if to ground the group.
The concert opened with three Henry Purcell Fantasias. They are groups of dances, at first majestic, then lively. Unexpected dissonances in the harmonies of the slow movements give a touch of modernity to these baroque suites.
The group plays with historic bows on gut strings, lending warmth and intimacy to their sound, notably in the fifth of Haydn's Opus 33 String Quartets.
They captured the spirit of this piece, which began with good-natured exchanges that earned it its nickname of the "How do you do" quartet, but quickly experienced huge swoops chasing small chirping phrases. The second movement has a soft and poignant theme in the first violin, over a soft barcarolle-like accompaniment.
You hope the melody will rock you forever, then Haydn cuts it off with a loud ping. The scherzo moves back and forth like Tom and Jerry, until the finale's polished drinking song leads to an exuberant ending.
The main work was Beethoven's Quartet Opus 59 No. 3, "Le Razumovsky". Its dedicatee, the Count, was a passionate amateur violinist who played with the string quartet that created it. It begins with a dark meander through related chords and eventually settles on C major. The set earned its name with a subtle contrast of light and dark.
In the second movement, the pizzicato cello punctuates a melancholic song, longing for a lost realm where waves break on distant shores.
The third movement is a throwback classic minuetto, but Chiaroscuro played it like the sharp scherzo expected at the time. Beethoven takes the listener on the wrong foot in the finale: what could be a fugue turns into a joyous and fast chase with a false ending, a real ending and a stunning crescendo.
Chiaroscuro lived up to its growing reputation as the gold standard of authentic interpretation of late classical and early romantic repertoire.
The photo is by Eva Vermandel.