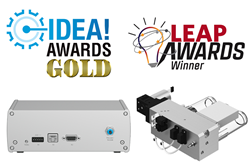 Festo pressure and vacuum generator wins innovation and design awards
ISLANDIA, NY (PRWEB)
23 November 2021
The new Festo PGVA pressure / vacuum generator won gold in the Machine Design and Hydraulics & Pneumatics' IDEA magazines! innovation awards competition and a silver medal in Design World magazine's LEAP design engineering awards program.
Festo's tiny PGVA, barely larger than a pocket book at 8x8x3 inches, enables automated lab devices to precisely control fluids for R&D in new life-saving drugs and for high-speed sample screening . This pressure / vacuum generator is an all-in-one solution. Pressure is supplied by a silent 50 db pump and stored in internal pressure and vacuum cells at 450 mbar pressure and vacuum. The air is filtered to a purity of -0.001 µm. The flow is controlled by a fast, quiet and energy efficient piezoelectric regulator. Communication with the unit is via RS 232 or TCP / IP.
The PGVA was elected by the readers of Machine Design and Hydraulics & Pneumatics as the winner of the Gold Prize in the motion control (flow) category. An external jury of Design World magazine awarded the PGVA silver medal in the tire category.
For more information on Festo LifeTech solutions – liquid distribution, gas control, bottle handling and gripping – email lab.automation.us@festo.com and visit Festo Laboratory Automation. Visit Biotech, Pharmaceuticals, and Cosmetics Automation for information on everything from process valves and gas control to Industry 4.0 solutions. Festo's general information number is 800-993-3786.
About Festo

Festo is a leading manufacturer of pneumatic and electromechanical systems, components and controls for process automation and industrial automation. For more than 40 years, Festo Corporation has continuously improved the state of manufacturing with innovations and optimized motion control solutions that deliver better and more profitable automated manufacturing and processing equipment.

Connect with Festo: Facebook, LinkedIn, Twitter and YouTube
Share the article on social media or by email: