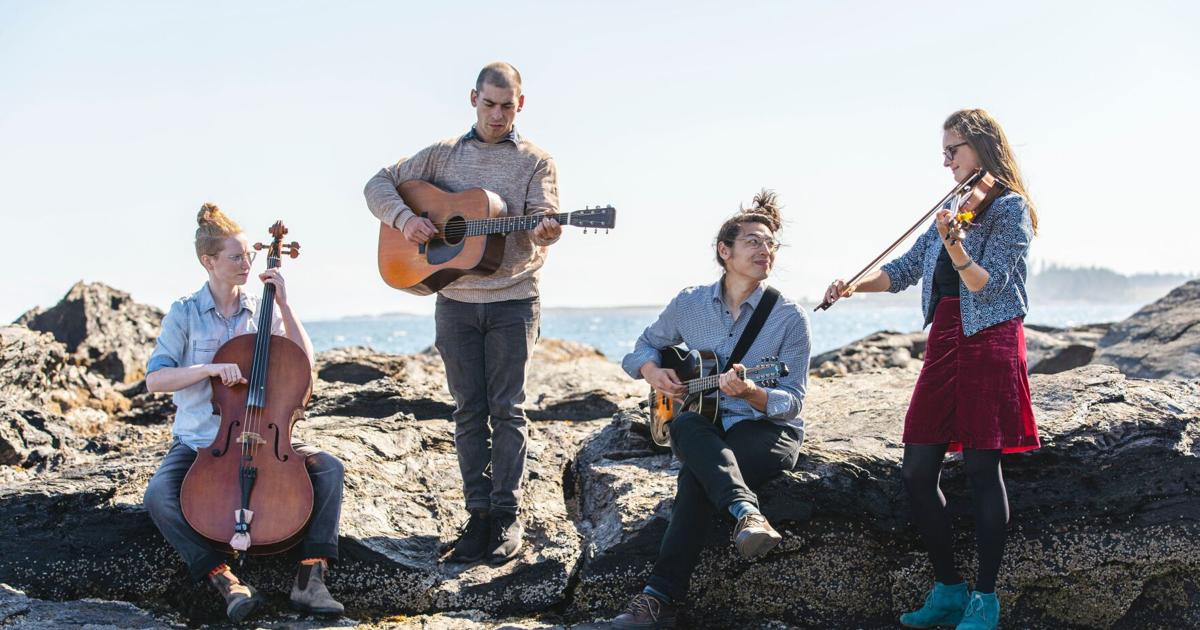 Goshen Native's String Band Releases Debut Album | New
GOSHEN — Goshen native Ethan Setiawan and his band's debut album are set to be released this Friday.
The Acoustic String Band features a uniquely formed group of four musicians from a variety of traditions ranging from Bluegrass to Celtic. Corner House's new album, "How Beautiful It's Been," has been in the works since before 2020, when the pandemic pushed back their recording schedule.
"It's hard to fit us into one mold," Setiawan said as he tried to explain the band. We come from a lot of different places,"
There's songwriter and guitarist Ethan Hawkins, there's Louise Bichan, a Scottish violinist; on the cello, Casey Murray, who comes from the contre-danse scene.
"It's all kind of mixed in with this beautiful contemporary songwriting that our guitarist, who is a great songwriter, writes."
Setiawan, as the band's bluegrass mandolin player, also has his own unique skills in the world of string music. His first instrument was actually the cello. As a home-schooled student, he learned through private lessons at Goshen College's Community School of the Arts.
"I love the scene. I love the city," he said. "The downtown art scene is really amazing for a city the size of Goshen. It's a very beautiful scene.
At Berklee College of Music in Boston, he met the string musicians who would eventually come together to form Corner House.
"For this band, it's been a long time coming," he said.
The group debuted in Boston in 2017 as a trio.
"Louise and Ethan Hawkins and I all lived in the same house – this big musicians house in Brighton, Mass. said Setiawan. "You know, a group of musicians in a house, there's a lot of opportunity to play together just for fun, just casually. This grouping, this couple, had a lot of potential, I thought – we all thought.
The trio recorded their first EP and began touring Scotland.
"I was playing a little cello on this tour and we kind of thought, 'You know, it would be nice to have a fourth person in this band and the cello would fit perfectly. ""
The three instrumentalists remembered their Bostonian musical friend Murray, and they asked him to join them before making their second EP and starting another tour. Murray joined the band in 2018. Their full album was supposed to be recorded in 2020 but they were unable to do so so they recorded a third EP instead which was released in 2021.
"We did a few EPs before this full record and they were always kind of local," Setiawan said. "We recorded them ourselves and kept them really self-sufficient. For this record, we went in and hired a producer, this great harp player, Maeve Gilchrist. Working with her was really great. She was a teacher and an influence for all of us, and we went to this great studio in the Hudson Valley in New York, recording with great sound engineer Eli Crews, and it was just a great experience.
Setiawan recalled the experience fondly.
"It's one of those studios that's a converted home, so you can go in there and there are bedrooms to sleep in and it's very immersive," he said. "You're right out there in the woods in the middle of New York and it can be a very focused environment just to sit down and make a record. That's my favorite," he said. experience of recording it with a good producer and a great engineer, it really helps the band play together and understand how to be a band."
For the album, they also collaborated with bassist Viktor Krauss and drummer Jordan Perlson. The files were actually sent to them to be recorded and mixed.
"I think it all works cohesively with these instrumentals providing segues and bridges between the songs on the record," Setiawan said.
The nine-song album features music written by all four band members and collaborations by several as well. All but one of the songs on the album are written by members of the band, whose members are not new to the process. Both Setiawan and Bichen have solo albums, and Hawkins is currently working on one for release this year, while Murray continues to participate in several bands.
"It's a collection of music that I'm really proud of," he said. "We put our best food forward, I think."
For more information about Corner House, visit them online at www.cornerhouseband.com.