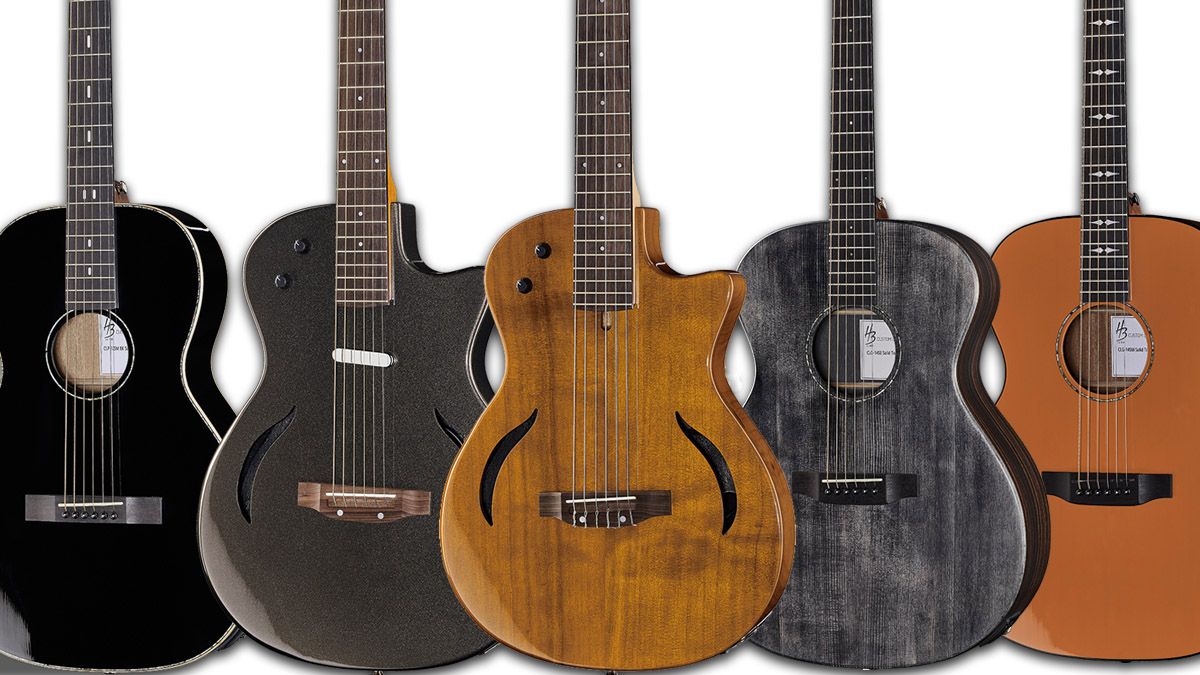 Harley Benton Releases Bold Nylon and Steel-String Hybrid Models and a Trio of Affordable Solid-Top Acoustic Guitars
Harley Benton has expanded its ever-affordable range of acoustic electric guitars with lounge, orchestra and large auditorium models in solid wood, and a bold hybrid model offered with steel or nylon guitar strings.
The CLG-14SE large auditorium, the CLG-14SM orchestra model and the CLP-12SM living room acoustics are equipped with piezo pickups and tuners, with the larger open-tuned auditorium and orchestra models featuring a three-band equalizer.
Similarly, the Hybrid Nylon model has a piezo, but it's the Hybrid Nylon Steel where things get really interesting with its built-in transducer complemented by a magnetic single-coil electric guitar pickup for mixing and matching acoustic and electric sounds. .
Typically Harley Benton, these stack the specs and come to market via Thomann at a very reasonable price. The Harley Benton CLG-14SE Solid Top Large Auditorium is priced at £183 / $240, the CLP-12SM Solid Top Lounge is priced at £250 / $329, the Hybrid Steel and Nylon models are priced at £333 / $438.
Let's see what you get for your money, starting with these hybrid models, each featuring a single cutaway body that offers full access up to the 21st fret while being a bit more compact than your typical classical guitar.
Picture 1 of 3

Image 2 of 3

Image 3 of 3

The Nylon Hybrid comes in a natural finish and has a hollow body comprised of solid spruce top, back and sides. The African mahogany neck is screwed to the body, carved into a C profile, topped with a rosewood fingerboard to match the bridge. The 24.72-inch scale and 52mm bone nut should provide a very accessible playing experience, and Harley Benton promises the thin line design will eliminate feedback at source.
The Hybrid Steel meanwhile has a solid mahogany construction and comes in black and natural finishes. Designed to blur the line between acoustic and electric guitar, it has a much narrower nut width of 43mm, but like its nylon-string relatives, it also has a bolt-on African mahogany neck, fingerboard and a rosewood bridge, a bone saddle and deluxe. chrome die-cast tuners.
Picture 1 of 2

Picture 2 of 2

The acoustic finds us in more familiar territory. The lounge-sized CLP-12SM Solid Top As the name suggests, it has a solid Sitka spruce top with African Mahogany on the back and sides, with Harley Benton supporting the top. harmony with an X bracing.
It has an African mahogany neck, purple heart fingerboard and bridge, and maple and abalone binding to finish the instrument off nicely. It also has a 24.72 inch scale, with a 43mm bone nut. A set of deluxe antique brass tuners add an elegant finish to the split headstock, and your finish options include Brown Burst and High Gloss Black.
Picture 1 of 2

Picture 2 of 2

The CLG-14SM Orchestra has a similar wood combo, Sitka Spruce on top, African Mahogany on back and sides, and again on the neck, and a purple heart fingerboard and saddle . It is resplendent in a glossy orange finish and has a PPS deck and saddle. Like the salon, it is bound in abalone and maple, with a small abalone rosette and tidy fingerboard inlays. It does, however, have a longer scale of 25.6 inches.
Finally, the CLG-14SE Grand Auditorium complements its solid Sitka top with laminated striped ebony on the back and sides. It has an African mahogany neck and composite material on the fingerboard and bridge – likely a Richlite-esque material – and a set of deluxe open-back tuners. And it's finished in satin.
All of these acoustics are available now via Thomann. To see Harley Benton for more photos and details.