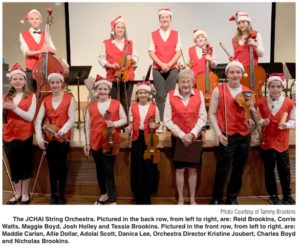 JCHAI gives string concert – ECB Publishing, Inc.
Heather ainsley
BCE Publishing, Inc.
On Tuesday, December 21, the Jefferson County Homeschool Association presented their Winter Concert, a program for strings and harmony orchestra that took place at 7 p.m. at the First Baptist Church in Monticello, located at 325 W. Washington St.
The concert featured a variety of instruments, including violin, cello, bass, piano, percussion, clarinet, trombone, trumpet and flute. Students of the band and string ensemble showed their talent by performing a total of 17 holiday-themed songs, including well-known classics like Beethoven's "Ode to Joy" and "Rockin 'Around the Christmas Tree" . Together, these students helped bring the holiday season to life, just in time for Christmas.
This year's winter concert was conducted by Patricia Shartran and Kristine Joubert, with a narration of "It Was The Night Before Christmas" by Heather Boyd. For the string ensemble, Charles Boyd, Madeline Carlan, Allie Dollar, Danika Lee, Adolai Scott, Corie Watts and Julie Zelek performed on the violin. Tessia Brookins and Josh Holley performed on the cello. On bass, Reid Brookins. The piano was played by Maggie Boyd and the percussion by Nicholas Brookins. For the group, playing with clarinets, were Hunter Benton, Tessia Brookins and Cheyenne Henderson. On the trombone were Nicholas Brookins and Tre Scott. Percussion was played by Adolai Scott. The trumpet was played by Josh Holley and Benjamin Wallace, and the flute was played by Dakota Henderson and Angela Holley.
For more information, call Tammy Brookins of the Jefferson County Homeschool Association, Inc. at (850) 210-3653.
Related