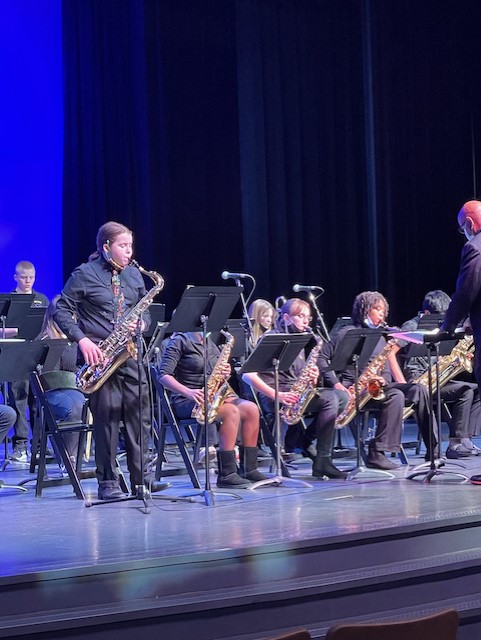 KCPS Instrumental Music Students Receive Honors from All Districts
KCPS instrumental music students have participated in the All-District Band, Jazz Band and Orchestra auditions at Liberty High School and Middle School. These students spent months preparing for the event, which was attended by hundreds of student musicians from as far north as Park Hill, south to Belton and as far east as Blue Springs.
We are proud to announce that the following students have been selected for honors from all districts.
From Lincoln College Preparatory Academy (directed by Jason Bata):
Music from the whole district 2021
Carmen Bata, Clarinet
Isaiah Van Dunk, Baritone saxophone, 1st alternate
Evan Martinez, Trombone, 2nd alternate
Nadia Alvarez, Euphonium, 1st substitute
2021 District Honorable Mention Group
Logan Stanley, Clarinet
Justice Christensen, Clarinet
Monique Fiagan, Bass clarinet
Isaiah Van Dunk, Baritone Saxophone
Evan Martinez, trombone
Nadia Alvarez, Euphonium
Albert Turner, tuba
Full District Orchestra 2021
Naomi Kriege, Violin
Sidney Richardson, Violin
Iris Church, Violin
Whole District Orchestra 2021
John Crow, violin
J Buch, Violin
Jaqueline Marquez, Violin
Eoin Harrison, Violin
Patience Christensen, viola, alternate
2021 Whole District Jazz Band
Carmen Bata, Tenor saxophone, substitute
From LCPA College (directed by Callie Garber):
2021 Whole District College Orchestra
Henry Crow, cello
From the Academy of Foreign Languages (directed by Susan Martinez):
2021 Whole District Middle School Honor Band
Olivia Smith, clarinet
Gregor White, Tenor Saxophone
2021 All-District Middle School Jazz Band
Gregor White, Tenor Saxophone
These students will perform from 6 p.m. on Saturday, December 11 at Liberty North High School. We are very proud of the achievements of these young musicians!