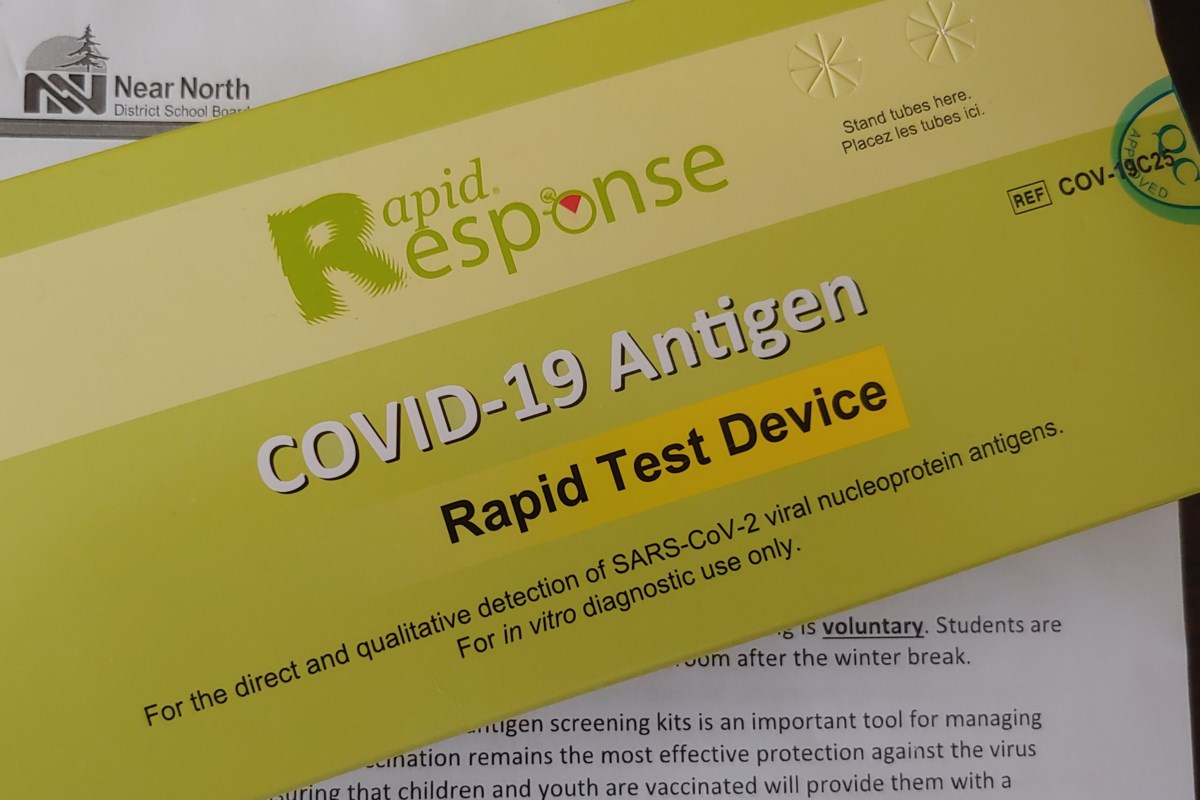 NNDSB on providing rapid antigen tests, kindergarten masks, after-school breaks
Education Minister Stephen Lecce said on Wednesday the tests will "empower" families
The Near North District School Board confirms that its students will receive two rapid antigen tests as classes resume after two weeks of remote learning to start the new year.
Education Minister Stephen Lecce said on Wednesday the tests will "empower" families.
"It's going to be a layer of protection that we didn't have," he said in an announcement alongside Ontario's Chief Medical Officer of Health Dr. Kieran Moore. "It's going to help give parents more certainty about whether they have the virus."
Moore added that the rapid tests will help get staff and students back to schools more quickly if – taken at 24 to 48 hour intervals – come back negative and their symptoms improve. Rapid antigen tests should only be used if a student has symptoms of COVID-19.
See related: Shorter isolation allowed in Ontario if two rapid tests are negative
And: Here's Ontario's plan to return to in-person learning
The Department for Education has announced that it will provide families with rapid antigen tests to "help keep schools safe for students and staff".
The local council advises that it will distribute any rapid antigen tests it has received. "Schools and council offices do not have a stockpile of tests. Further tests will be distributed once the NNDSB receives more."
See also: NNDSB staff will be reimbursed for a single rapid antigen test during the holidays
And: Near North Board students are sent home with rapid antigen tests over the Christmas holidays
Instructions will be included with the tests but can also be found here and an instructional video is available.
Earlier in the week, the council provided an update on back-to-school policies.
Music programs and school sports will not resume immediately, according to a letter to families from the NNDSB.
"On the advice of Ontario's Chief Medical Officer of Health and the local public health unit, indoor high-contact, high-intensity activities (such as wrestling, basketball, multi-cohort choirs, and high-intensity instrumental ensembles wind, for example) have been discontinued. week of Jan. 17, all extracurricular activities and practices will be suspended. All interscholastic sports will be suspended until Jan. 31, pending review by the health unit and coterminus school boards. .
As of Monday, January 17, it is mandatory that all JK/SK students wear masks. High-quality, three-ply masks will be made available to all students at all schools, in addition to medical-grade masks, if required. Untested N95 masks will be available for all staff.
Additionally, the NNDSB reminds all staff and students that they will be required to confirm that they have passed the self-screening each day before attending school.