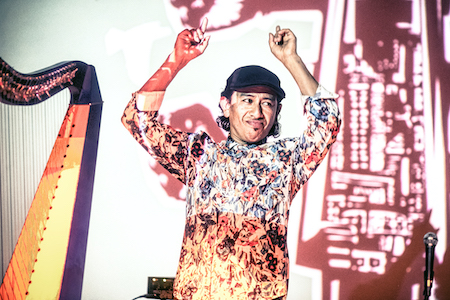 Reid Forges New Connections at Chicago Jazz String Summit
---
By Michael JacksonIJune 7, 2022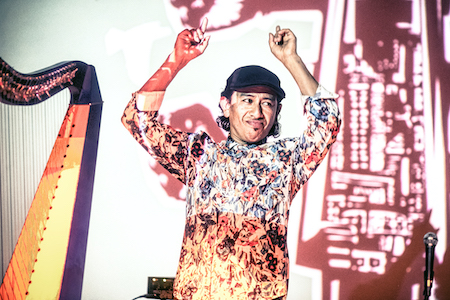 Cellist Tomeka Reid is wildly playful and a burst of energy in person, yet understated and serious in her performances. Her muted public persona was evident during a break on the first night of the eighth annual Chicago Jazz String Summit at Constellation, when she announced the audience proceedings, micless, in the dark. (She took the stage and did a better job on the second night.) Anyone who has attended her underrated festival for the past eight years, however, knows that Reid is a superb curator and connector.
The CJSS, held May 13-14, also includes an online educational component, with free virtual workshops hosted by the city's Experimental Sound Studio, as well as video tributes to past performers and award winners.
Arriving in Chicago after her year-long artistic residency for the Moers festival in Germany, Reid did not give herself a concert at her own festival (as artistic directors who are professional musicians often do), but gathered six stunning sets featuring artists rarely seen in the Midwest, as well as a burgeoning local aggregation.
Venezuelan violist Leonor Falcon and her guitarist husband Juanma Trujillo, both from Caracas, kicked things off with a multifaceted duo. Falcon's veiled profile and red lips somewhat echoed Jan Vermeer's "Girl With A Pearl Earring" canvas as she rocked back and forth with her instrument, eliciting a range of sounds, often triggered by his thick-soled boots trampling a rack of belongings. pedals. Trujillo's guitar was variously supportive, offering chuckling counterpoint under a sharp alto bow, fried country one minute, dark and grungy the next. Hints of influences from Bill Frisell and John Scofield have cropped up, but otherwise Trujillo's approach defies categories. His attention and spontaneity suddenly synchronized in unison with Falcon as they intermittently resorted to the manuscript in front of them. "Expanding Universe" took us into the cosmos with the eerie buzz of an effects-laden, dynamically decaying viola and insistent thumb guitar, but was followed by a sing-song track that blended, rather improbably , choppy West African rhythms with Hot Club flavors. A release of the duo is in preparation; while waiting to seek peach and tomato (a duet with violinist Sana Nagano) and the long quartet of Tujillo Impetu (both on Falcon Gumba).
Curtis Stewart, violinist and Juilliard faculty member, followed with the über passionate and virtuosic outpourings of his multi-layered video/music/verse/electronic solo projects "Of Power", "Of Color(s) (Gone)" and, primarily, "Of Love," elements partly inspired by the Black Lives Matter campaign and an "ode to and celebration of the power of my mother, one of my deepest yet most elusive inspirations."
Stewart is the offspring of Greek violinist Elektra Kurtis and the late tuba great Bob Stewart. Like them, he tried to reconcile the classical and jazz camps. Although his ensemble draws on Brahms and Purcell (the latter's lament of Dido and Aeneas) as well as notated music (he also sang in support of his rendition of Brahms' Violin Sonata #1) , it was quite clear that Stewart is capable of practically anything on his instrument. He throws his whole body and soul into a performance. One of the highlights was a poignant rendition of her mother's favorite Greek folk song, "Thalassaki Mou."
The first evening of the festival (three and a half hours of music) was crowned by the rare aggregation of cellist Jake Charkey and tabla master Mir Naqibal Islam – rare in that the cello is not normally associated with Hindustani music, though sometimes the instrument shimmered like a sitar. The duo set began (and ended) with the traditional body movement of kathak dancer Veronica Simas de Souza, who made an invocation to Lord Shiva after a long warm-up session from strings and drums (the tanpura drone required for the set, by the way, was provided by an app on Charkey's iPad). Not a fan of North Indian forms, Charkey divides his time between New York and Mumbai and has contributed to a number of Bollywood soundtracks. Classical forms from another hemisphere, the jazz pedant might say, but metrical improvisation has always been an integral part of the native music of the subcontinent and appealed to the more rhythmically adventurous jazzers. A drut ektaal (rapid 12 beat cycle) with an interesting title ("Rama Nama Parama Dhamma") mixed with several teentals (16 beat ragas), but the surprise in the set was a revamp of the raga from "As I Went Down" by Doc Watson. In The River To Pray", inspired by Charkey's viewing of the film O brother, where are you?
Saturday evening was better attended and began, as the previous night, with a spellbinding violinist. Despite her disarming and somewhat eccentric ways, Zara Zaharieva from Bulgaria, wife of her quartet's electric bassist, Joshua Ramos, is a powerful performer with a clear talent for improvisation, notated recital and original composition. Rounding out the band was drummer Kyle Swann and guitarist Edhiño Gerber, the latter a distinctly jazzy flagship for the eclectic Zaharieva, with hints of Pats, Metheny and Martino in her style. The frontman lists martial arts and skydiving on her resume and is clearly engaged with the world, as evidenced by her varied musical vanities. The playful opening "Musika Schmuzika" was followed by an equally playful, yet moving tribute to his deceased dog: "Song For Bradley". Early on, a virtuosic showdown between Ramos' growling, funky electric bass and Swan's heavy drumming was salient. "Toca Mas Cumbia" revealed Zaharieva's enthusiasm for Latin rhythms; before "In The Forest", she talked about her imagination tending to run wild. During a heavy theory lesson with trumpeter Victor Garcia, she recalls, her mind wandered, thinking of woodland creatures playing chess, what she called "cartoons in her head." Zaharieva's ideas didn't seem to have an end in sight, but she kept her set relatively concise, which was appreciated, given the multi-bill. Spoken word artist Justus (Joseph Sanders) joined the quartet near the end of the set with a sacred high-energy roll.
Next came two seasoned veterans, both Sun Ra Arkestra alumni: drummer Avreeayl Ra and cellist Kash Killion, who came together for the first time in five years to collaborate spontaneously. A shamanic rapport immediately froze with Ra alternating spartan, skeletal mallet beats with unannounced almighty thumps, as Killion spoke of interstellar cello-processed strumming, arco-melismas and vocal statements such as "J flew to a star, I didn't know how far! The pair spoke of the lineage of their sonic quests, and the authenticity of their spiritual inquiry was beyond reproach, with Killion hoping to have inspired audiences "beyond comfort." "Echoes Of Africa" was particularly evocative, with vocals, meditative flute, even near throat-singing of Ra, calling from another continent. Killion pulled all the sound he could from a collar whistle as Ra's hi-hat clacked and his twin bells rang.
Killion is a cello specialist but has explored many instruments and brings his diverse interests to bear. Ultimately, he resorted to the sarangi, a stubby, bowed necked stringed instrument popular in Punjabi and Rajasthani folk music. Although the sounds he produced on the cello seemed limitless, the sarangi, which Killion studied with the famous Ali Akbar Khan and other Indian masters, while still fascinating, was more limited in tonal variation.
Although known for its fragile luster despite its size, the harp, in the hands of Edmar Castaneda, is a whole different story. The Colombian genius connects his bass strings to an amp to add weight and contrapuntal groove to his searing, sublime assault on the 34 strings at his disposal, each of which he can grab in a flash, with supreme precision despite an acrobatic attack. . Castaneda assaulted Astor Piazzolla's "Libertango" with the passionate zeal of flamenco guitarist's most fiery and left jaw-dropping with "For Jaco", his outrageously funky and harmonically adventurous tribute to bassist Jaco Pastorius, one of his first jazz favorites.
Castaneda is one of a handful of musicians who have this meta-mastery of their chosen axis: truly transcendent, not only technically, but in terms of the triumphant human spirit they inspire. After the show, Zaharieva, a virtuoso in her own right, exclaimed, "I'm speechless," and it hit the mark: an incredible climax to an already high peak. comics
---
Charnet Moffett

"Keith's stuff was amazing," says pianist Craig Taborn of Facing you.

Bassist-songwriter Ron Carter turns 85 on May 4.

"I have no idea what I've done before! It's irrelevant," Ibrahim said. "I can't change anything. I can't change the past, I can't change the future, I can only deal with what is now.

The Detroit Jazz Festival announced its Labor Day weekend lineup during a live preview event that included a live performance by 2022 artist-in-residence Chucho Valdés.