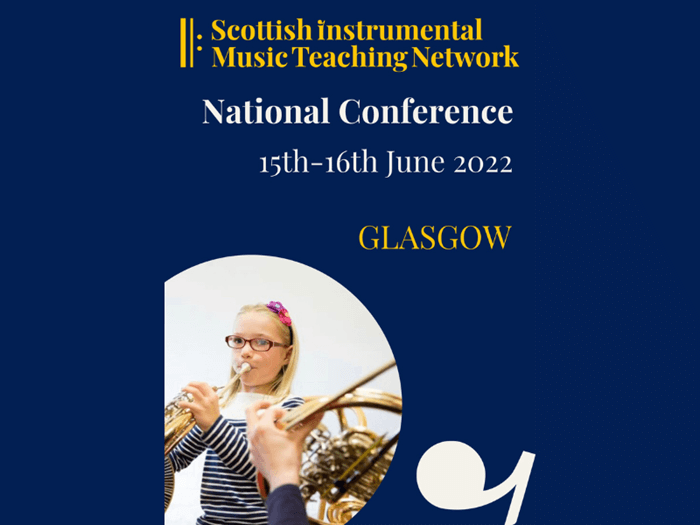 Scottish Instrumental Music Education Network Conference
About the event
The Music Education Partnership Group (MEPG) is delighted to welcome you to the Scottish Instrumental Music Teaching Network conference.
Content of the conference
The conference is sponsored by the Creative Scotland YMI Strengthening Youth Music Fund, MU and other valued partners.
Day 1 presenters include: Paul Harris, Rebecca Henry, Francis Cummings & David Munn (strings) Elspeth Rose & Kate Openshaw (percussion), Nigel Boddice MBE (winds, brass, percussion), Wilma MacDougal (vocals), Traditional Music Forum, Jamie McKay (RCS Learning & Teaching, Academic Development) among many others.
Day 2 presenters include: Dr Anita Collins (Bigger Better Brains), Martin Thomson (Cheranga) Richard Michael, Clare Johnston (Drake Music Scotland), Karen Watson (Nurture Support), Roundtable MPEG (Future of Instrumental Music), Andy Duncan (iWrite), Traditional Music Forum among many others.
A complete program will be available from the beginning of next week.
Location details
The conference will take place in the RCS, the DoubleTree Hilton Glasgow City Center and the National Piping Center on Wednesday 15 and Thursday 16 June 2022, daily from 10.00am to 4.30pm.
Booking details
A separate ticket for each day is required and e-tickets or printed tickets will be scanned upon entry each day. Please also indicate if you are able to bring your instrument to form the participant ensembles for the Strings or Winds/Brass/Percussion sessions.
This is a free event, but prior online registration is required. This event can also be streamed live.