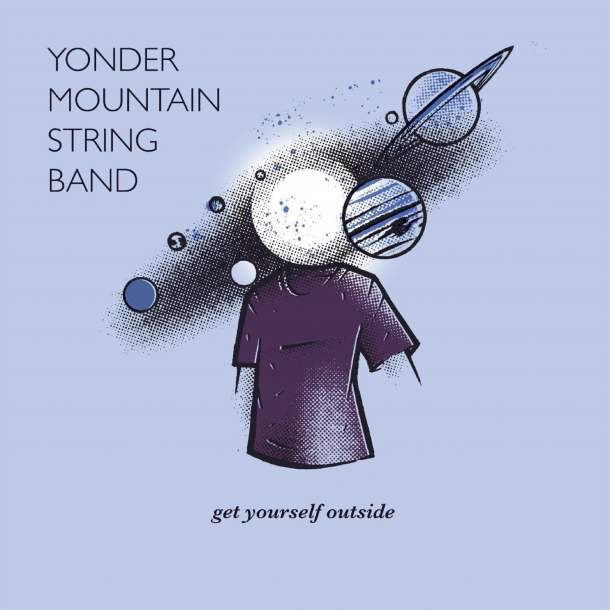 String Band Yonder Mountain Shares New Track "If Only" From Upcoming Album
After nearly a quarter century of making music together, Colorado's jam-weed veterans Yonder Mountain String Band show no signs of slowing down. Indeed, with their new album Get yourself outside due out in February and a slew of tour dates in the books – their first full tour with new member mandolinist Nick Piccininni – YMSB are as inspired and energized as ever. Today American Songwriter premiered another new track from Get yourself outside; the animated pseudo-love song "If Only". The American songwriter called the single "lively" and celebrated the band's ability to be "evolving, yet still excellent". YMSB guitarist Adam Aijala recalls the origin of the song: "I tested positive for COVID at the end of 2020 and while isolating myself in our spare bedroom, I had a guitar idea that ended up being the intro to the song. The lyrics and melody I came up with sounded like it could be some kind of love song and how we navigate relationships. Aijala shared his new creation with the rest of the band in a Zoom meeting and they started to polish it. "The song's upbeat vibe makes me think the outcome for the narrator was good," Aijala says. can listen to "If Only" right now at this linkthe previous "Into The Fire" at this linkand pre-order or pre-register Get yourself outside before its release on February 25 just here.
Recorded during the stop at Cinder Sound Studio (Gunbarrel, Colorado) and co-produced with engineer John McVey, Get yourself outside (Frog Pad Records) is a musical odyssey of string instruments and sonic textures. "We want the listener to come out of your own head, out of the box or container that you've created around you – look outside and see what else is out there," says bassist Ben Kaufmann. What started as online back and forth between band members quickly turned into YMSB entering Cinder Sound after several months apart. "We knew we needed to get more out of our off-road time. So we started collaborating and realized we had all these songs," Kaufmann explains. "It was kind of a trick to figure out how to come together and record safely. But we're glad we did it and what came out of it." Some of the song ideas were older. But a lot of ideas have emerged during the pandemic," adds Aijala. "It's a blessing in this life to be able to play music for a living," Kauffman says. "Get Yourself Outside is proof of that, which is why it was such a joy to finally play these songs live."
https://www.youtube.com/watch?v=3RTezQU7ZhM
Get yourself outside List of tracks:
Next to me
I can not
Little house
If only
On top of this hill
No left leg
out of the pan
In the fire
Scratched discs
change of heart
suburban girl
In addition to the announcement of the upcoming album, YMSB is gearing up for a long series of tour dates in February and March, starting with the official album release show at the newly opened Meow Wolf Convergence Station. and incredibly popular Denver, where spectators will have a unique experience. a one-of-a-kind immersive musical and artistic experience, before traveling to Florida, across the Southeast and on to Texas. A full list of dates is below and ticket information can be found at yondermountain.com/tour.
Catch Yonder Mountain String Band on Tour:
1/18 – Salt Lake City, UT – The Commonwealth Room
1/19 – Jackson, WY – Arts Center
1/20 – Great Falls, Montana – The Newberry
1/21 – Billings, MT – The Pub Station
1/22 – Bozeman, MT – The Elm
1/23 – Missoula, Montana – The Wilma
1/25 – Whitefish, Montana – The Great Northern Bar & Grill
1:27 – Boise, ID – Knitting Mill
1/28 – Seattle WA – Neptune Theater
1/29 – Portland, OR – Revolution Hall
1/30 – Bellingham, WA – Wild Buffalo House Of Music
2/1 – Arcata, CA – Arcata Theater
2/2 – San Francisco, California – Great American Music Hall
2/3 – Nevada City, CA – Miners Foundry Cultural Center
2/4 – Solana Beach, CA – Belly Up Tavern
2/5 – Tempe, AZ – Marquee Theater
2/6 – Flagstaff, Arizona – Orpheum Theater
2/24 – Denver, CO – Meow Wolf Convergence Station – official album release
2/26 – Steamboat, CO – Winter Wondergrass
2/27 – Steamboat, CO – Winter Wondergrass
3/11 – St. Petersburg, Florida – Jannus Live
3/12 – Immokalee, Florida – Southland Bluegrass and Wilderness Festival
3/13 – Key West, Florida – Parade Grounds at Fort East Martello
3/15 – Carrboro, NC – Cat's Cradle
3/16 – Savannah, GA – Victory North
3/17 – Live Oak, FL – Suwannee Spring Meeting
3/18 – Atlanta, Georgia – Variety Playhouse
3/19 – Charleston, SC – Charleston Bluegrass Festival
3/20 – Nashville, TN – Brooklyn Bowl
3/23 – Fayetteville, AR – George's Stately Parlor
3/24 – Austin, TX – Scoot Inn
3/25 – Houston, TX – Warehouse Live
3/26 – Dallas, TX – The Factory Studio
4/2 – New Orleans, LA – Hogs For The Cause
04/28 – Poughkeepsie, NY – Bardavon
4/29 – Baltimore, MD – location TBD
5/6 – Black Mountain, NC – Silverados
5/7 – Cincinnati, OH – location TBD
5/8 – Cincinnati, OH – location TBD