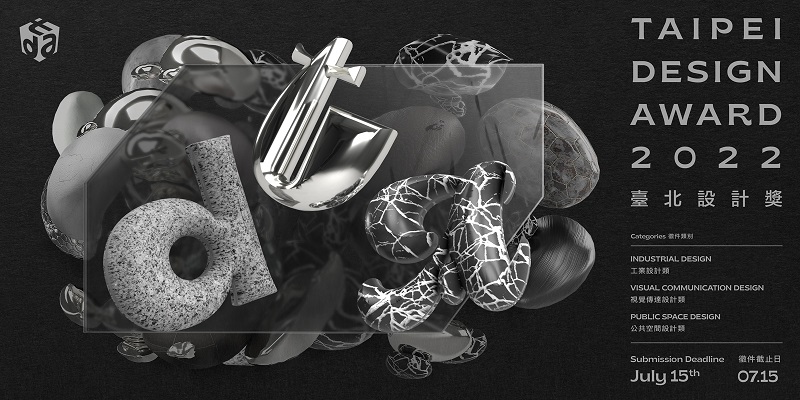 Taipei Design Award (TDA) 2022 for designers worldwide (NT$3,800,000 in prize money)
Deadline: July 15, 2022
Applications are open for the Taipei Design Award (TDA) 2022. The award invites designers from various fields and from all regions of the world to participate. The Taipei City Government organizes the Taipei Design Award in the spirit of "Design for Adaptive City", as a continuous gesture to the world, especially for those who have a passion for creativity and design, a gesture for projecting the urban brand image of "Design Taipei; Dream of Taipei".
It is an open call for outstanding international designs and an effort to make Taipei a convergence platform for creative designs, thereby discovering creative designs with commercial potential and, more so, encouraging creative practices. of social design in a plea that design as a medium can bring humans a better, more enjoyable and more convenient life.
Categories
Applications can be submitted in the following three (3) competition categories:
Industrial Design – design work that can be mass produced, including general and digital applications, tools, equipment and transportation instruments, utilities and household goods, computing and appliances, etc.
Visual communication design – digital graphic designs, identity, posters, packaging and prints.
Design of public spaces – Open space for public use, government buildings and private establishments partially intended for public use.
Price
The total price is NT$3,800,000. The price for each category is listed below:
Taipei City Mayor's Award (NTD 600,000)
Gold Reward (NTD500,000)
Cash Reward (NTD200,000)
Bronze Medal (150,000 NTD)
ICoD Excellence Award (NTD30,000)
IFI Special Reward (NTD30,000)
WDO Award for Sustainability (NTD 30,000)
Advanced Application Reward (NTD150,000)
Circular Design Award (NTD150,000)
Social Innovation Award (NTD150,000)
Special Judges Prize (NTD 30,000)
Audience Award (20,000 NTD)
Eligibility
Everyone in the world is invited to participate individually or in groups (each group is limited to five members) with one member as the main correspondent.
Entries must be original entrants' creations completed after April 15, 2020.
Evaluation criteria
Applicability
Creativity
Feature
Aesthetic
Application
All registrations must be registered online and obtain a serial number to complete registration.
Upload the design concept description (maximum 500 words in Chinese and maximum 1200 numeric characters in English. English as the main language supported by other languages ​​if needed).
Upload the name of the work (English as the main language, supported by other languages ​​if necessary).
Click here to apply
For more information, visit Taipei Design Award.