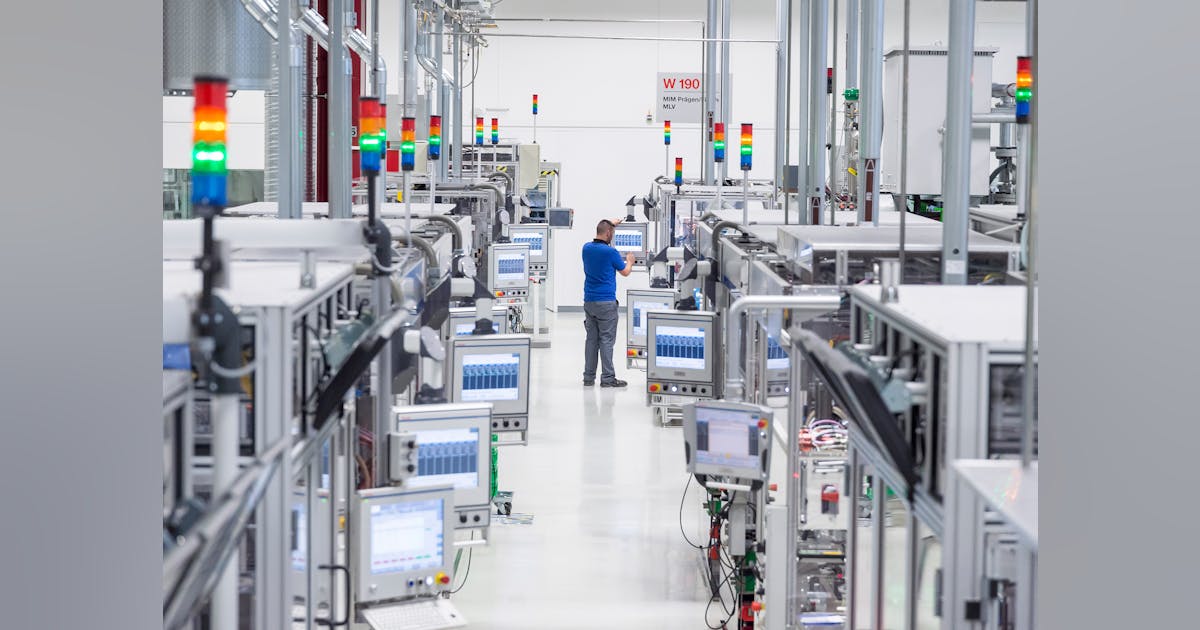 The chip giants are gearing up for the digital factories of the future
Chipmakers are strengthening their products for the industrial age of the Internet of Things (IIoT), deploying high-end processors and embedded microcontrollers (MCUs) with the rigor required to operate the factories of the future.
NXP Semiconductors, Renesas Electronics, Texas Instruments and other companies are taking the segment more seriously, improving their offerings to operate embedded systems safely in a factory.
The modern factory is filled with sprawling networks of IT infrastructure and sensors to control and inform industrial robots and other automated systems. Companies seek to improve their operations by using software and other tools such as predictive maintenance to repair heavy machinery before it wears out.
To stay ahead, semiconductor companies are innovating industrial-grade chips with more computing power than ever before and bolstering them with larger pools of local RAM to handle heavy workloads.
They also build more networking capabilities into the chips, including Time-Sensitive Networking (TSN) standards and real-time industrial protocols for faster, more reliable transfer across the plant.
Additionally, embedded hardware security modules (HSMs) are often added to protect the hardware itself from hackers and security-focused subsystems in chips packaged in compact and rugged high pin-count packages.
Ultimately, they're trying to give engineers more choices to help them select the right component for their systems.
sprawling networks
The modern factory is becoming increasingly automated, creating a complex web of industrial-grade network protocols and fieldbuses. Many have dominated the factory for decades; others have to prove themselves.
NXP has deployed a range of high performance MCUs with up to five Gigabit Ethernet ports that run a wide range of industrial networking protocols including TSN. The i.MX RT1180 also supports legacy real-time protocols such as EtherCAT, PROFINET, EtherNet/IP and CC-Link to help save PCB space and reduce costs.
TSN is a relatively new set of networking standards that brings real-time, deterministic communications to factories. It gives a shared understanding of time to sensors and other devices so they can send time-critical data over Ethernet. TSN is quickly becoming a major standard because information (IT) and operational technology (OT) can both run on the same network.
Tolerating temperatures from -40 to 125°C, the chip is based on a Cortex-M7 processor clocked at 800 MHz coupled to a Cortex-M33 clocked at 240 MHz. The chip's memory subsystem centers around a large block of 1.5 MB RAM. This is supplemented by 512 kB of ECC-equipped cache for the Cortex-M7 processor and 256 kB for the Cortex-M33.
It is also the first i.MX RT crossover microcontroller to integrate its NXP's EdgeLock secure enclave. NXP said the pre-configured, self-managing and autonomous subsystem-on-chip alleviates industrial IoT security challenges.
According to NXP, the secure enclave addresses the need for a root of trust with secure boot, authenticated debugging, secure device lifecycle management, advanced key management, and tamper monitoring.
"Industrial and automotive customers are looking to deliver increasingly advanced networking capabilities and need a solution that not only provides processing power, but can also handle time-critical network traffic," said Jeff Steinheider, vice- president and general manager of industrial edge processing at NXP.
The i.MX RT1180 is housed in compact BGA packages starting at 10×10mm, making it easy to integrate real-time TSN and industrial networking into I/O management, motor control or even gateways industrial.
Functionally safe
As software takes up more space in the modern factory, the systems inside are held to higher standards for functional safety.
Renesas aims to solve this problem with its new microprocessor called RZ/T2M, which performs real-time motor control for industrial servo motors and high-speed motors at the heart of robotic arms and other factory systems. TSN and other types of Industrial Ethernet and Functional Safety are all integrated on a single chip.
Functional safety consists of reducing the risks of industrial equipment so that it can react safely in the event of a malfunction. This is vital in a factory where industrial robots operate in close proximity to human operators. They must react very quickly to avoid potentially dangerous collisions when humans get too close.
At the heart of the RZ/T2M is a dual-core Cortex-R52 processor clocked at up to 800 MHz, with one core designed for motor control and the other for networking. Peripheral functions used for motor control are directly linked to the CPU via a dedicated bus, allowing CPU cores to access these functions with less latency.
The RZ/T2M adds 576 KB of tightly coupled on-chip memory (TCM) to the CPU. This reduces runtime fluctuations that can occur when the cache is in use, resulting in faster, more deterministic processing.
In addition to networking protocols such as EtherCAT, PROFINET RT and EtherNet/IP, Renesas has added support for PROFINET IRT and the latest TSN standard to communicate under tighter time constraints.
"The RZ/T2M is capable of controlling servo motors that drive robots at extremely high speed and with high precision," said Toshihide Tsuboi, Vice President of Industrial Automation Business at Renesas.
Designing functionally safe robots or other heavy machinery usually requires a pair of separate microcontrollers for safety monitoring. Renesas said the RZ/T2M is safe at its core: it can handle safety-critical processing in parallel with motor control and communications, so only one external microcontroller is needed, reducing costs . The RZ/T2M, which has an operating temperature range of -40 to 125°C, contains 2MB of shared RAM.
Renesas plans to deploy safety solutions, including a SIL 3-certified software kit that includes a self-test kit for fault self-diagnosis, and a SIL 3 system software kit for mutual diagnosis and software isolation.
A suite of development tools called Flexible Software Package (FSP) is available for the RZ/T2M.
Easy-to-access AI Edge
A family of embedded processors from TI can help upgrade human-machine interfaces (HMIs) and IoT devices with cutting-edge AI.
The company said it rolled out the Sitara AM62x family, including the AM623 and AM625 with 3D GPUs, to bring new ways to interact with everything from heavy machinery in factories to medical equipment. Instead of pushing buttons on a panel or tapping a screen, TI revealed it sees a future where you use hand gestures to issue commands in a factory or remotely access devices. machines with a smartphone to diagnose faults.
With its power-efficient architecture and prices starting under $5, the AM62x helps engineers lower the bar for adding vision processing, predictive maintenance, and other AI-powered features to virtually any edge device.
AM62x processors have up to four Arm-based Cortex-A53 processors clocked at up to 1.4 GHz, each core supplemented by 32 KB of L1 cache and 512 KB of L2 cache shared with ECC. The chips are based on a 16nm node, one of the most advanced technology nodes used in embedded and edge devices. They integrate 816 KB of on-chip SRAM. But memory expansion is possible with up to 4GB LPDDR4 and 8GB DDR4.
The AM62x family also includes a dedicated display subsystem that supports dual displays up to 1920×1080 at 60 fps.
A 400 MHz dual-core Cortex-M4 processor acts as a hardware security subsystem with 426 KB of local RAM for key and security management. Cryptographic acceleration up to 256-bit AES, up to 512-bit SHA2, and a public key accelerator (PKA) are also supported. The chips also feature secure boot with hardware-enforced root of trust.
Additionally, the chips contain a 400 MHz real-time Cortex-M4 coprocessor with up to 256 KB of TCM and a set of peripherals. TI said the subsystem can be isolated from remaining hardware for security reasons.
For functional safety, it has system capability up to SIL 3 and hardware integrity up to SIL 2.
On the networking front, the AM62x adds 2 Gigabit Ethernet ports, supporting the latest TSN standards. The chips are also equipped with a wide range of general-purpose peripherals, including 3x SPI, 5x I2C, 8x UART and 2x USB 2.0, as well as wired and wireless connectivity interfaces.
TI said the family adds all of these features without sacrificing power efficiency, reducing power by up to 50% over the competition. As a result, systems powered by AA batteries can stay on for more than 1,000 hours, according to the company.
The AM62x family features a simplified power management architecture, with a pair of dedicated power rails and multiple power modes. Deep Sleep mode draws less than 5mW, which extends battery life, while in Active Power mode, processors can run on less than 1.5W, letting less heat dissipate from the device. Without the need for bulky heatsinks, the AM62x can fit into devices with limited space.
The AM623 and AM625 can run multiple operating systems at the same time, including Linux and Android.
The AM62x chips, designed for industrial temperatures from −40 to 105°C, are housed in 13×13×0.5mm, 425-pin and 17.2×17.2×0.8mm, 440 FCCSP BGA packages. – pin FCBGA packages.