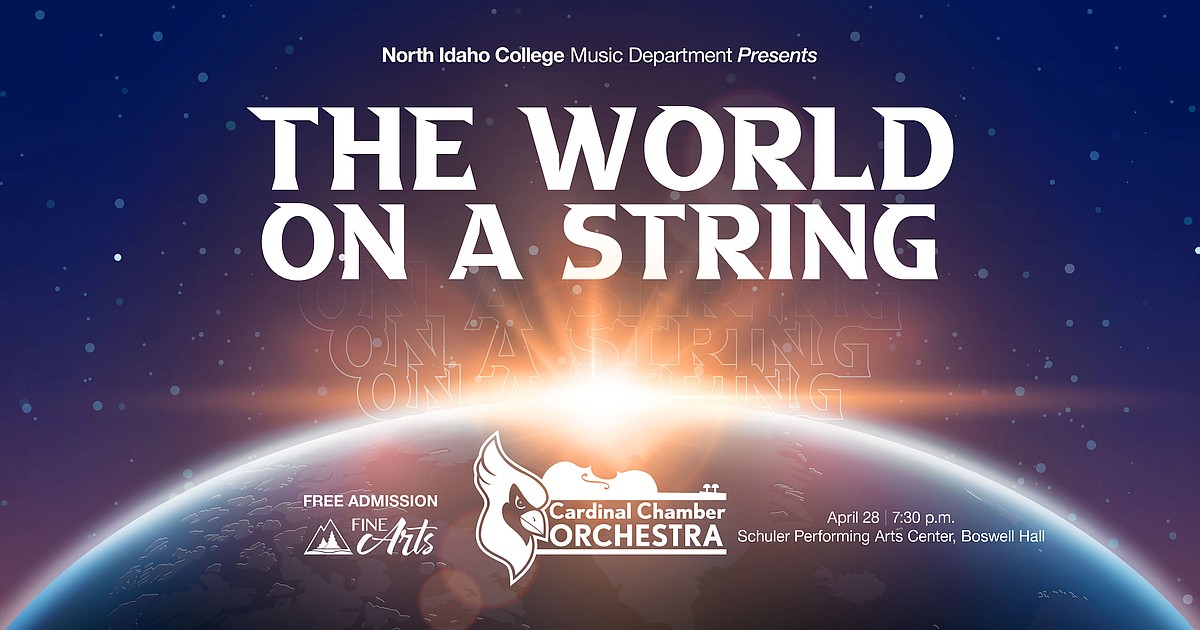 The NIC Orchestra has "World on a String"
The Cardinal Chamber Orchestra of North Idaho College will perform "The World on a String" at 7:30 p.m. Thursday, April 28 in Boswell Hall at the Schuler Performing Arts Center on NIC's main campus in Coeur d'Alene. The concert is free and open to the public.
This concert will feature the 10-piece orchestra performing music from the Baroque and Classical eras and featuring modern film music.
The concert will begin with the overture to Mozart's comic opera, "The Marriage of Figaro". An overture is an orchestral introduction to a musical work, usually a ballet or an opera, but can be an independent musical composition. This overture is well known and widely performed independently as a concert piece.
The orchestra will perform another classic — the "String Quartet No. 5 in D Major "The Lark" Op. 64", a symphony in four movements by one of the great composers of the classical era. The first movement begins with an unforgettable treble on the highest string of the first violin that hovers over the march-like staccato accompaniment of the three instruments. The slow movement is a poignant meditation, while the dancing minuet is interrupted by one of Haydn's earthy trios. The finale is a hectic brouhaha with splendid, light fingers that has been compared to the dance of the British sailors, the bagpipes.
In addition to these masterpieces of string repertoire, the band will perform music from the 2005 film "Pride and Prejudice" and Patrick Doyle's orchestral score for "Harry Potter and the Goblet of Fire."
The closing number of the concert will be "Orawa" by Wojciech Kilar. Kilar is a Polish composer of classical and film music, best known for composing the score for 'Bram Stoker's Dracula' in 1992. 'Orawa' is inspired by Highland folklore. Since its first performance in Zakopane, Poland in 1986, it has been a hit in concert halls, enchanting with its spontaneity, energy and temperament.
For more information, contact NIC Groups Director Bryan Hannaford at 208-769-3258 or bryan.hannaford@nic.edu.