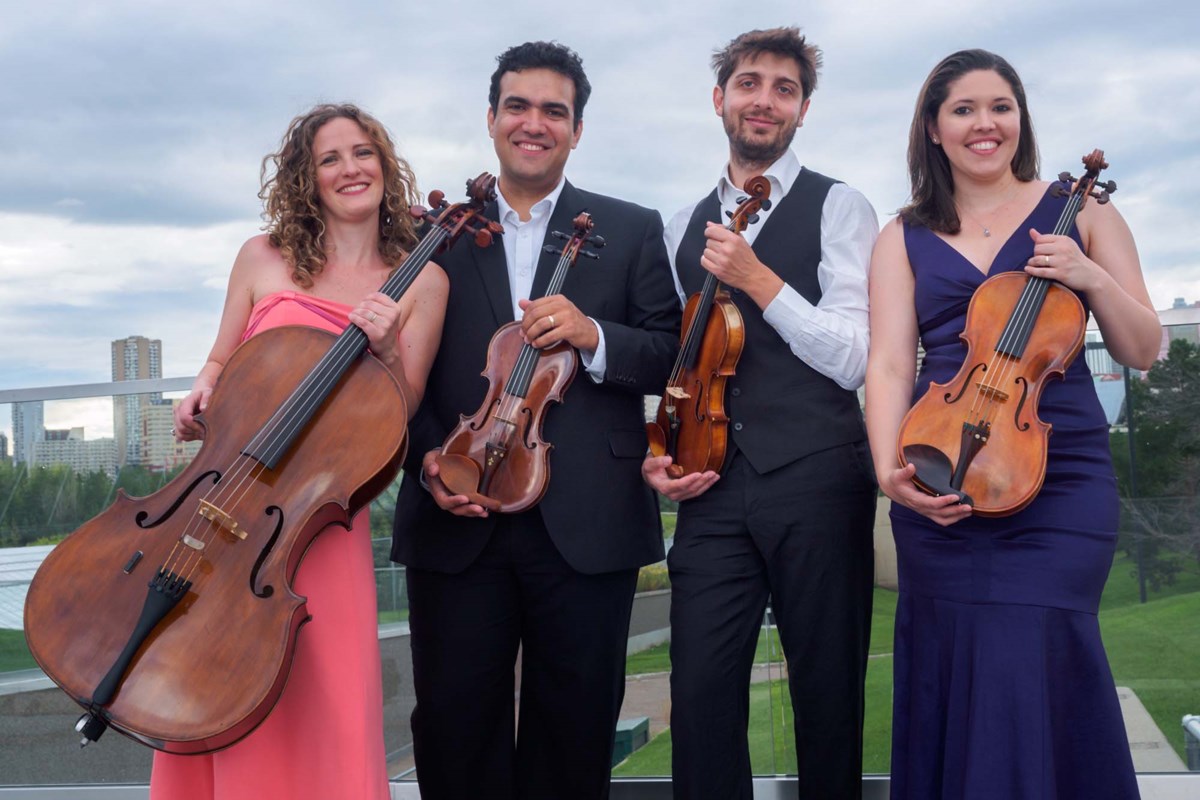 The Vaughn String Quartet offers an evening of Brazilian and Italian composers
String quartets are some of today's most mobile musicians – they can easily pick up their instruments and move quickly from venue to venue. They appear quietly, greet their audience, do their thing and slip away into the night.
Performances tend to be tricky when half of the quartet live in Edmonton and the other half in Montreal. Somehow, the Vaughn String Quartet has made it one of the most requested quartets in the province.
Cellist Silvia Buttiglione and her violinist husband Mattia Berrini moved to Montreal in 2019 to expand their studios. Buttiglione is pursuing a law degree while Berrini is pursuing a doctorate in violin performance.
Meanwhile, in Edmonton, concertmaster Vladimir Rufino and violist Fabiola Amorim are fielding calls and booking local shows, like the one hosted by the St. Albert Chamber Music Society on Saturday, May 7 at St. Albert United Church. .
"We are extremely happy to be back with the St. Albert Chamber Music Society. This is our third or fourth time. Nancy (Watt) is an amazing person, and she connected [us] with so many musicians. When we perform we always try to bring something different and there are always new experiences to share," Amorim said.
Despite the long-distance relationship, no band has been busier maintaining a rigorous schedule rehearsing privately and virtually in groups as well as teaching and performing online.
"When we get together, we meet for 10 or 12 days and rehearse from 9 a.m. until late at night. We know our individual parts and focus on group rehearsals.
The string quartet presents four uniquely diverse compositions, from Brazilian composers Beetholven Cunha and Marcilio Onofre to Italian composers Nino Rota and Giuseppe Verdi.
From the beginning, the mission of the quartet was to present a reference repertoire written by composers of international renown, perhaps less known in the region. With the exception of Verdi, the other three composers are less recognized locally despite world fame.
The program opens with the world premiere of Cunha's Quartet No. 6a composition in four movements specially written for the quartet.
"He is the most important composer in Brazil. We have always followed him, and friends have introduced him. We discussed a collaboration and he offered to compose something for us," Amorim said.
"In this composition, he brings together elements of traditional pieces of Brazilian music and uses rustic effects. It uses pizzicato (pinching) and the rhythmic patterns are not traditional classical music. There is syncope, which is dance music. And we use wood sounds, clapping or tapping our instrument.
by Onofre Immigrant Quartet "Skeletons" instead turned to the more modern and economical style of composition.
"This room is the most contemporary. It is very fragmented. It uses some of the same music, but it's not minimalistic. It doesn't have a traditional sense of tonality. It does not follow the same patterns as traditional music. As a performance, it's a gamble. We don't know how it will be received, but we need to bring to the audience what's happening in the present.
Rotas Quartet for Archi (Quartet for bows) is a three-movement work that begins with a moderately brisk tempo, and evolves into a slow, poignant character before ending on a cheerfully robust note.
"He uses melodic material. It is very rhythmic, very clean. You understand each instrument and sometimes they play something different. It's like a conversation. »
The quartet completes its segment with String Quartet in E minorthe one and only surviving string quartet by Verdi, considered quite difficult technically.
"He mainly wrote for operas. It's a runaway, one of the most difficult. All instruments have different thematic materials. As a fugue it has very thick lines but later it has light sounds like a dance."
The program opens with a performance by emerging artist, 17-year-old violinist Aidan Lai. Paul Kane High School 11th grader plays the lush Chaconne in G minor by Italian composer Tomaso Antonio Vitali. Aidan's sister, Justine, accompanies him on the piano.
"It's an extremely dramatic piece. It's a baroque piece, but many composers have edited it and it has a romantic passion," Aidan said. "There are a lot of multiple voices. It's more of a story than something enjoyable to listen to.
Doors open Sunday, May 7 at 6:45 p.m. The concert begins at 7 p.m. at 20 Green Grove Dr. Tickets are $35/adults, $30/seniors, and $15/students. To visit www.eventbrite.ca or at the Musée Heritage Museum until noon on the day of the concert.