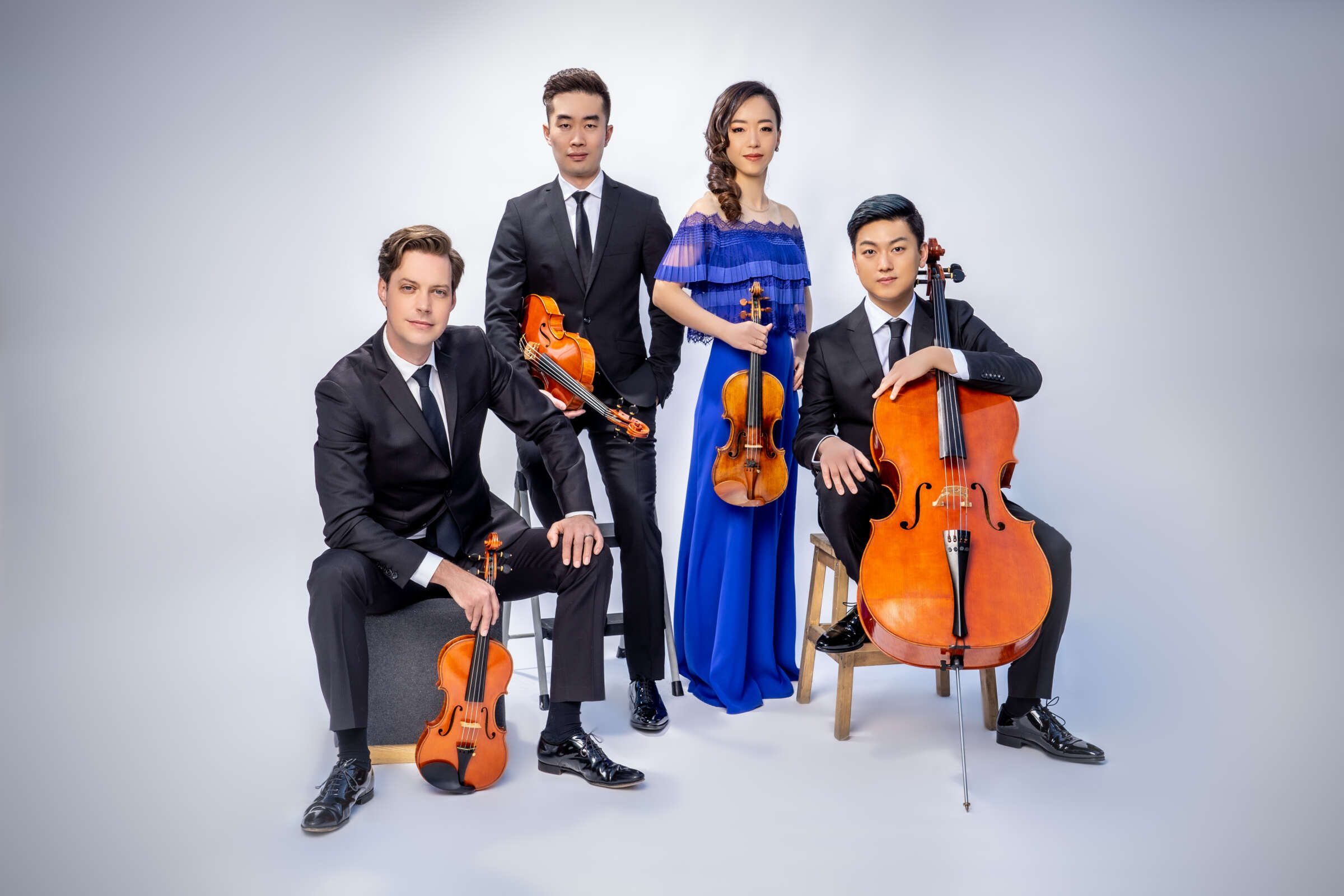 VC INTERVIEW | VC artist Rolston String Quartet gives expert advice to young ensembles
The Violin Channel had a chance to catch up Artist VC Rolston String Quartetto get their perspective on what it takes to be a good string quartet.
This summer, after concerts at Canada's Elora Festival, they will present a captivating program at An Appalachian summer festival July 26. Tickets can be found here.
What are your most important words of wisdom for up-and-coming chamber music groups hoping to build a flourishing career?
-Agree on a vision for the future of the whole.
Being a musician/artist means constantly looking for what can be done better. Make sure you are all on the same page regarding your commitment to this research and the philosophies behind it.
-Build a social media presence as soon as possible.
-When you encounter a few bumps in the road, figure out how to deal with them constructively. Rather than being discouraged, see the challenges as a springboard for the development of the group. Keep a cool head and see everything as an opportunity.
What are your favorite parts of traveling together? Any advice for bands embarking on their first tour?
Exploring different food scenes is a fun perk for us! When you start traveling in a group, it's easy to choose to repeat over exploring somewhere new. Of course, it's important to sound good, always. But what is also important is to create memories other than rehearsals and concerts. The amazing meal you had together or the beautiful gallery you all saw will be the things that will stick in your head. Creating experiences makes the visit a little livelier.
In your opinion, how important is winning competitions for the success of a quartet?
We think this is very important. Regardless of success, you grow as a group. Participating in a competition forces you to forge an identity as a group, such a clear identity. You want a member of the jury or the audience to walk away and say, "I get what that quartet was about. I understand their unique vision of music. You're also exposed to the audience and presenters, and it's always good to put yourself out there.
When you prepare for a competition, you are super "fit" musically. Your ears are at an all time high as you come in contact with many other bands who have also pushed themselves to the brink. It forces you to constantly evaluate yourself.
Although it's not a natural situation of any kind, it's beautiful to hear all these different people playing things that they have prepared. They went through a similar scenario and it forces everyone to go through a state of hypergrowth.
Would you say it's a similar situation at a summer festival?
It's a similar place where you can do a lot of work. At a summer festival, you spend a lot of time together and really perfect who you are. Competitions and festivals are similar in that they are goal-oriented, but with festivals there is a little less pressure and competition. You can set goals and have fun at the same time.
This will be your first participation in the Appalachian Summer Festival. How do you choose a program for a summer festival like this?
First, we choose the music we like. We are currently working on the whole Hayden Op. 33 string quartets. During this concert on the 26th, we chose to play numbers 2 and 4. From there, we tried to choose music that corresponds to these two works.
Often we will choose structurally similar parts. All parts of the Appalachian program seem to sprout from a seed. Each piece has a central, unifying pattern from which the entire piece is derived. AR Thomas and Beethoven employ a very elaborate structural approach to the compositions, almost architectural. We believe that great composers populate their music with great detail and a sense of realism, but they are all in the same physical setting. There is a sense of verisimilitude. When we work on songs like these, it makes our rehearsal process really joyful.
You have included a piece by living composer Augusta Read Thomas. Can you tell us about this piece and how you found it?
Augusta Read Thomas is a good friend of ours! She composed this piece for our quartet a few years ago. This is a musical representation of the mosaics by award-winning mosaic artist Isaiah Zagar. It's a very good summary of what we like to do as a quartet, that is to say a very worked phrasing. She creates these cells and, like a mosaic, assembles them like puzzle pieces between the different voices of the quartet. It starts off super fragmented, but by the time you get to the second movement it becomes a bit like a fanfare.
It was being written during the pandemic, so when we collaborated with her on the piece, it was on Zoom. She made a few tweaks based on our play, but for the most part, her first draft didn't require many changes.
When we spoke with her about her composition process, she said she used other art forms. She dances to her music, paints it, etc.
How important do you think it is for a young quartet to work with living composers?
We think that's really vital. There are so many different ways music can sound and composers really have such a wide range of possibilities right now in terms of the type of music they write. So when you work with many composers, you learn a lot of the different ways music can exist.
Additionally, you learn the composer's certain musical language, and each teaches you something different about your instrument, or how phases can come together, notes combined, intervals used, etc.
Then you can apply this new knowledge to your readings of Beethoven or Brahms or Haydn. You can use what you learn from contemporary composers to better understand older ones. As a musician, it can be a meaningful interaction to go between these eras, while understanding that music is made from the same basic tools.
Moreover, he perpetuates the tradition of working with composers. Composers like Beethoven and Brahms will work with the violinists and musicians of their time. By interacting with contemporary composers, we create the artistic language of the times in which we live.
It's like any great art form. Composers alive today are part of a compositional tradition that spans centuries. We're lucky to live in a time where we can look at very, very old and then very new music and then find commonalities/differences.
You recently released your first album "Souvenirs". Do's and don'ts for up-and-coming ensembles preparing to record their debut album?
-Find a good sound engineer!
-Sometimes you can get bogged down during a session, so find ways to keep things fresh.
-Listen to the recording you just made while you're still in the studio so you have time to make any changes if you wish. For example, if you hate the way the pickups are set up, it's better to find out and change it right away, rather than popping out the CD and figuring it out later.
-Be very involved in the editing process. In many recording studio situations, you can become embarrassed and nervous about getting everything right. But don't worry too much because a lot can be changed.
-Again, it's about having a shared vision with your foursome mates. Recording music that means a lot to you as a band is important. Just have fun with it!
What is your social media strategy? Sounds like you're trying to balance the serious stuff with more fun messages!
One of us manages the social media accounts, but it's definitely a collaborative process. Anyone can post anything as long as everyone agrees. And usually we know what others will and will not agree with the post.
In general, social media is a great way to interact with people even if they are far away. We try to mix content for our subscribers and post content that we would like to see on our own feeds.
What is one of your best memories together?
Our recent tour of Germany was a lot of fun. It was seven concerts in ten days. After traveling less due to COVID-19, it meant a lot to us to be able to spend a lot of time on the road. Also, it was right after the Russian invasion of Ukraine, and we were meeting Ukrainian refugees who had gone to Germany. We included a Ukrainian anthem in the program and it made the experience much more personal and real. Some of the refugees we met actually lived in the same hotel where we briefly stayed.
Being able to play music in the midst of the atrocity of the current situation made us realize the power of music and the distillation of what music is capable of. For the refugees who attend the concerts, we hope they will get something positive out of it.
To discover the upcoming engagements of the Rolston String Quartet, click on here.