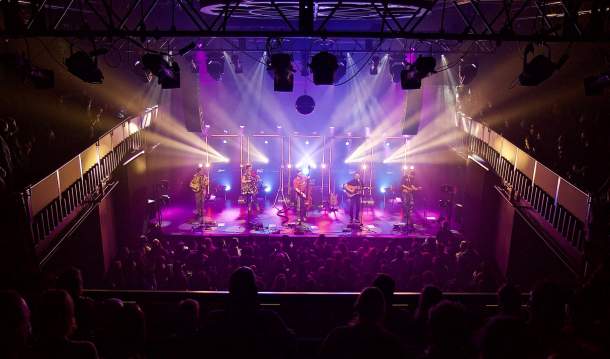 Yonder Mountain String Band Skates Through A World Of Nostalgia And Emotion On New Track "Suburban Girl"
The story contained in the notes of Yonder Mountain String BandThe new song from "Suburban Girl" is one that will touch the vast majority of listeners, and yet it's a story that has perhaps never been told in such a beautiful, heartbreaking, and heartwarming way. "Suburban Girl" is, in the words of YMSB banjoist and songwriter Dave Johnston, "an autobiographical song about skateboarding, the Midwest, and the unrequited, agonizing emotions of teenagers." But the time between memory and writing the song left the raw angst behind and turned into a polished, finger-picked guitar part and startlingly simple, vivid imagery reminiscent of greats like John Prine or Guy Clark. "There is not much in the world. Make up your mind, suburban girl," Johnston sings from the sidewalk to an open second-story window, encouraging its inhabitant to "get out" — which is also the namesake of the band's upcoming album. Get yourself outsidereleased February 25 via Frog Pad Records.
To accompany the softly sung song, YMSB tapped director/host John Summerson and stop-motion animator Maggie-Rose Condit-Summerson to collaborate on an equally charming music video. Opening with a skateboard and its rider's shoes with no body to find, the riveting stop-motion video follows the board – along with doodles coming to life in a startlingly accurate high school math notebook – as "Suburban Girl" unfolds itself to the listeners. "I ride my Santa Cruz. Skinny legs skinny shoes. Everything a poor boy could want. Anything a poor boy could do.
To see YMSB's beautiful song come to life, watch the video "Suburban Girl" here. Fans can also listen to previously released singles – "If Only" at this link and "Into The Fire" at this link—and pre-order or pre-register Get yourself outside before its release on February 25 just here.
https://www.youtube.com/watch?v=3RTezQU7ZhM
Recorded during the closure of Cinder Sound Studio (Gunbarrel, Colorado) and co-produced with engineer John McVey, Get Yourself Outside (Frog Pad Records) is a musical odyssey of string instruments and sonic textures. "We want the listener to come out of your own head, out of the box or container you've created around you – look outside and see what else is out there," says bassist Ben Kaufmann. What started as online back and forth between band members quickly turned into YMSB entering Cinder Sound after several months apart. "We knew we needed to get more out of our off-road time. So we started collaborating and realized we had all these songs," Kaufmann explains. "It was kind of a trick to figure out how to come together and record safely. But we're glad we did it and what came out of it." Some of the song ideas were older. But a lot of ideas have emerged during the pandemic," adds Aijala. "It's a blessing in this life to be able to play music for a living," Kauffman says. "Get Yourself Outside is proof of that, which is why it was such a joy to finally play these songs live."
Get yourself outside List of tracks:
Next to me
I can not
Little house
If only
On top of this hill
No left leg
out of the pan
In the fire
Scratched discs
change of heart
suburban girl
In addition to the upcoming album announcement, YMSB is gearing up for a long series of tour dates in February and March, starting with the official album release show at the newly opened Meow Wolf Convergence Station. and incredibly popular Denver, where spectators will have a unique experience. a one-of-a-kind immersive musical and artistic experience, before traveling to Florida, across the Southeast and on to Texas. A full list of dates is below and ticket information can be found at yondermountain.com/tour.
Catch Yonder Mountain String Band on Tour:
2/24 – Denver, CO – Meow Wolf Convergence Station – official album release
2/26 – Steamboat, CO – Winter Wondergrass
2/27 – Steamboat, CO – Winter Wondergrass
3/11 – St. Petersburg, Florida – Jannus Live
3/12 – Immokalee, Florida – Southland Bluegrass and Wilderness Festival
3/13 – Key West, Florida – Parade Grounds at Fort East Martello
3/15 – Carrboro, NC – Cat's Cradle
3/16 – Savannah, GA – Victory North
3/17 – Live Oak, FL – Suwannee Spring Meeting
3/18 – Atlanta, Georgia – Variety Playhouse
3/19 – Charleston, SC – Charleston Bluegrass Festival
3/20 – Nashville, TN – Brooklyn Bowl
3/23 – Fayetteville, AR – George's Stately Parlor
3/24 – Austin, TX – Scoot Inn
3/25 – Houston, TX – Warehouse Live
3/26 – Dallas, TX – The Factory Studio
4/27 – New Orleans, LA – Hogs For The Cause
04/28 – Poughkeepsie, NY – Bardavon
4/29 – Baltimore, MD – location TBD
5/6 – Black Mountain, NC – Silverados
5/7 – Cincinnati, OH – location TBD
5/8 – Cincinnati, OH – location TBD